Fulbright U.S. Student Program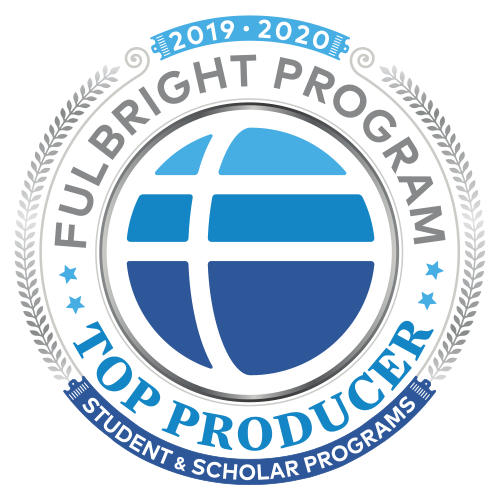 The Fulbright U.S. Student Program offers over 1,900 opportunities for students to study, research, or teach abroad while promoting cross-cultural interaction and mutual understanding. Candidates looking to study or conduct research abroad will need to develop an independent program proposal and secure an in-country affiliation. Grants will fund project and living expenses for an 8-12 month period.
Students apply to a specific country for a specific proposal. You may only apply to one country to do one thing. Thus, the first step is to select where you'd like to go and what you plan to do there. Each country has their own number of grants, selection criteria, and eligibility qualifications. You should carefully review the requirements for your country of interest! Country descriptions are available on the Fulbright website.
Students planning to apply for the 2021-2022 grant cycle must file a registration form by June 1, 2020. UR's Campus Fulbright Deadline for the 2021-2022 application cycle is 8:00 a.m. on August 24, 2020.
Fulbright Deadlines:
Attend an information session 

Complete an advising appointment - March-May, 2020

Sign up for an individual advising appointment here. Advising appointments should be scheduled after attending an online info session. 

Attend virtual workshops hosted by fellowship advisors - May-June 2020
File a registration form with a resume by June 1, 2020
Meet periodic draft deadlines set by fellowship advisors - Summer 2020
Complete application due by 8:00 a.m. on August 24, 2020
Campus Evaluation Process – September 2020
National Deadline – October 2020
Types of Grants
The Fulbright awards two main types of grants: Study/Research Awards and English Teaching
Assistantships.
Study/Research Awards allow recipients to spend 8-12 months in a foreign country conducting independent research or studying at an academic institution.
English Teaching Assistantship (ETA) awards provide opportunities to spend 8-12 months in a foreign country teaching English language and conversation classes.
ETAs are only available in select countries and teach students from elementary school through the college level, depending on location (see country descriptions for specifics)
ETAs are not expected to be the primary English instructor in their classrooms; they serve as supplemental instructors focusing on teaching American culture and providing conversation practice with a native speaker
More specifics on the ETA program and available countries can be found here
The Fulbright also offers a handful of specialty grants, including field-specific awards, Fulbright mtvU, and Fulbright Nat Geo. More information on these can be found here
Eligibility Criteria
To be eligible for the Fulbright, students must meet the minimum requirements:
Have a baccalaureate degree by the start of the grant (usually graduating seniors or recent alumni)
Be a U.S. citizen at the time of application
Possess language skills commensurate with proposed project
Strong academic record (at least a 3.0)
To be competitive for the Fulbright, students will need to demonstrate:
Previous research experience (research grants)
Previous teaching/instruction experience (ETAs)
Strong letters of recommendation
Projects that correspond with educational/professional goals
Compelling reason to conduct project abroad in specific country
Interest in serving as a cultural ambassador abroad
Application
The Office of Scholars & Fellowships is here to help all eligible students with the application process. Our office will provide you feedback on your application materials, especially the two application essays; applicants should be prepared to revise these essays multiple times. For students applying for a research proposal, assistance from a faculty member within your discipline is also critical.
Students interested in applying must attend an information session and complete the Fulbright Registration Form by June 1, 2020. This will start you on the application path. If you would like to schedule an appointment to discuss the Fulbright program, please call or email the Office of Scholars & Fellowship at (804) 662-3060.
How to Apply
For the 2021-2022 grant cycle, current UR students MUST apply through the Office of Scholars & Fellowships. Students must attend an information session, register online, and meet the August 24, 2020 campus deadline.
Recent alumni not enrolled in graduate studies may apply through UR and complete the campus evaluation process, or apply directly to the Fulbright "At-large." For alumni applying through UR, applicants must attend an information session in person or remotely, register online, and meet the August 24, 2020 campus deadline.
Past Fulbright U.S. Student Program Recipients
Emily Churchill, English Teaching Assistantship, Mexico, 2020
Ella Reed, Fulbright Community-Based Combined Award, Austria, 2020
Gabriela Telepman, Fulbright-Garcia Robles Binational Internship Program, Mexico, 2020
Mehreen Usman, English Teaching Assistantship, Malaysia, 2020
Justine Guan, English Teaching Assistantship, Kazakhstan, 2019
Griffin Trau, English Teaching Assistantship, Czech Republic, 2019
Emily Landon, English Teaching Assistantship, Tajikistan, 2019
Thomas Vanderbeek, English Teaching Assistantship, Germany, 2019
Racquel Francis, English Teaching Assistantship, Colombia, 2018
Jack Goodin, Research/Study: Ecology, Uruguay, 2018

Tim Gruber, English Teaching Assistantship, Malaysia, 2018
Rocio Posada-Castaneda, English Teaching Assistantship, Mexico, 2018
Gabrielle Robinson, English Teaching Assistantship, Panama, 2018
Soleil Shah, Research/Study: London School of Economics Award - Political Science, United Kingdom, 2018
Jackie Sirc, Research/Study: Political Science, Switzerland, 2018
Jessica Weaver, English Teaching Assistantship: Germany, 2018
Jacquelyn Pearlmutter, English Teaching Assistantship, Brazil, 2017
Ryan McEvoy, English Teaching Assistantship, Germany, 2017
Taylor Johnson, English Teaching Assistantship, Ukraine, 2017
Klarabelle Celine Ang, English Teaching Assistantship, Morocco, 2016
Dane Michael Harrison, Research/Study: Journalism, Slovenia, 2015
Kimberlee Maria Laney, English Teaching Assistantship, Kazakhstan, 2015
Gwendolyn Carrie Setterberg, English Teaching Assistantship, Argentina, 2015
Aleah Sterman Goldin, Research/Study: Interdisciplinary Studies, Mongolia, 2013
Nabila Rahman, English Teaching Assistantship, Malaysia, 2012
Jennifer Loughnane, English Teaching Assistantship, Indonesia, 2011
Nathan Bullock, Research/Study: Geography, Singapore, 2010
Rebecca Stewart, English Teaching Assistantship, South Korea, 2010
Kyle A. Bell English Teaching Assistantship Spain 2009
John C. Calhoun, English Teaching Assistantship, Taiwan, 2009
Aaron C. Daugherty, English Teaching Assistantship. Indonesia, 2009
Jill E. Eisenberg, English Teaching Assistantship, Taiwan, 2009
Lauren M. Grewe, English Teaching Assistantship, Bangladesh, 2009
Kate F. Simma, English Teaching Assistantship, Peru, 2009
Emily C. Jenchura, Research/Study: Psychology, Trinidad & Tobago, 2008
Kara D. Schultz, Research/Study: History, Spain, 2008
Katelyn P. Reighard, Research/Study: Chemistry, Israel, 2008
Tori E. Foster, English Teaching Assistantship, South Korea, 2008
Laurie P. Knies, English Teaching Assistantship, Hong Kong, 2008
Genevieve C. Goulding, Research/Study: International Relations, France, 2007
Jessica V. Loman, English Teaching Assistantship, Indonesia, 2007
Kathleen B. McKinney, English Teaching Assistantship, Germany, 2007
Nina Bhattacharyya, Research/Study: Biology, Trinidad & Tobago, 2006
Anne D. Johnson, English Teaching Assistantship, Spain, 2006
Caroline A. Weist, Research/Study: Drama, Germany, 2005
Anne M. Schwalbe, English Teaching Assistantship, Germany, 2005
Kevin C. Lingerfelt, Research/Study: Information Sciences & Systems, Ukraine, 2004
Ian M. Billard, Research/Study: East Asian/Pacific/Australian Studies, China, 2004
Michael G. Goff, English Teaching Assistantship, Germany, 2004
Joshua W. Walker, Research/Study: Middle Eastern Studies, Turkey, 2003
Danielle L. Joyce, English Teaching Assistantship, South Korea, 2001
Erin M. Fleming, Research/Study: Business and Economics, Mexico, 1999
Craig M. Fagan, Research/Study: Transportation, Argentina, 1997
Jason B. Meyler, Research/Study: Latin American Languages & Literature, Colombia, 1997
Daniel J. Gertsacov, Research/Study: Economic Development, Chile, 1997
Jonathan D. Meade, Research/Study: Environmental Studies, Canada, 1996
Laly L. Lichtenfeld, Research/Study: Biology, Kenya, 1996
Jennifer L. Welsh, Research/Study: Medieval and Renaissance Studies, Germany, 1995
Mary A. Crowe, Research/Study: Economics, Germany, 1994
Robert Goodman, Research/Study: History, Austria, 1991
Hanson Peiffer, English Teaching Assistantship West Germany, 1990
Ann C. Bennighof, Research/Study: African Languages and Literatures, Cameroon, 1977
Gregory N. Daugherty, Research/Study: Classical Languages and Literature, Italy, 1970
Leonard J. Greenspoon, Research/Study: Italian Language and Literature, Italy, 1967